– PR SAMPLES – 
When I think of Nivea, I think of it as a brand that's family friendly and safe to use. So when Nivea wanted to send me their new range of skincare, I was keen to see if it still performed to the standard of other Nivea products I've tried in the past.
Personally I've only tried two Nivea products. One is the Nivea Creme Body Cream and this is probably Nivea's most iconic product. It's a body cream that can be used by the whole family which saves money. I loved this body cream growing up but now I do feel it's a little too thick for me to use all over. I'd prefer to just use it on my legs and dry areas and then use a body lotion for the rest.
So introducing the Urban Skin Defence & Detox range, there's five products and it includes a day cream, night gel cream and three masks. I also got sent lots of duo sachets of the detox and moisturising mask, so these are ideal for when I'm travelling.
I've been slacking recently with my skincare regime especially when it comes to day creams, so the Skin Defence Day Cream definitely came at the right time. The cream contains SPF 20 which is perfect because currently I'm not wearing much makeup due to fake tanning so it's good that I'm getting some protection from the sun.
The cream isn't at all too thick which is nice especially during the hotter weather, you don't want to applying a cream that suffocates the skin. It feels very fresh and is a light green colour which is probably down to the Green Tea extract. The cream provides skin with protection and moisture for over 48 hours.
What I instantly loved about the product was the scent. It didn't just disappear after it was rubbed into my face but it's fragrance remained for the rest of the day which was very pleasant. I've worn the cream with pressed powder and my skin remained hydrated which was impressive.
Next up is the night cream which has a gel-like consistency. Very much similar to that of it's high-end competitor, the Clinique Moisture Surge, this budget friendly version is quite the dupe. Again, the scent is a win for me and for those who tend to buy because of the fragrance, these products hit the mark.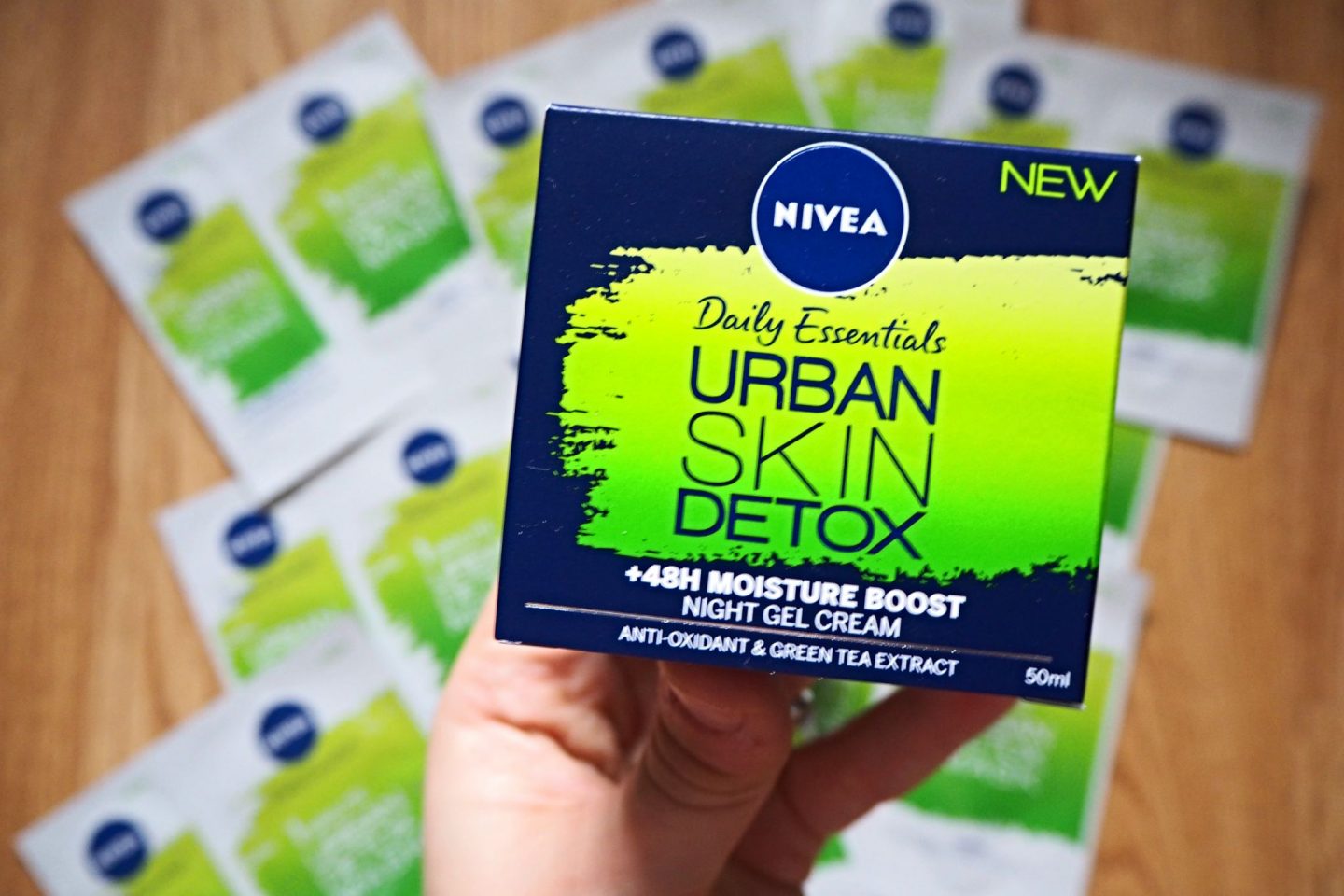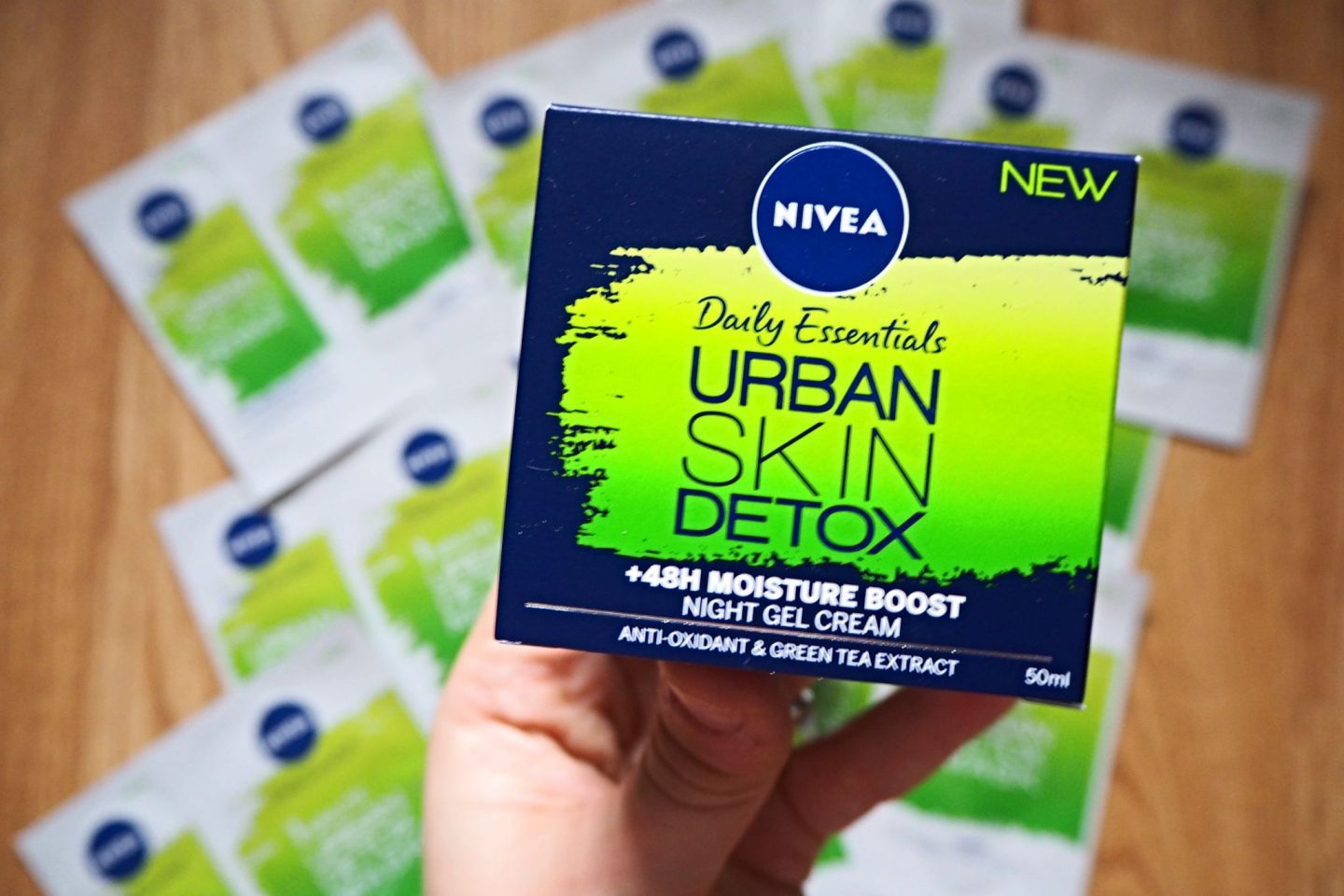 The gel cream is extremely refreshing and I believe if it were kept in the fridge, it would be even better. The night cream helps detox the skin, leaving it healthy, radiant and smooth come morning. The cream also contains hyaluronic acid which hydrates and plumps the skin and I definitely saw a visible improvement the next morning.
The first mask I tried was the +Purify mask which contains white clay, exfoliates dead skin and gives the skin a deep cleanse.
My skin definitely looks brighter and more radiant after a week of using the mask and I like this one a lot.
Finally, I got to try a second mask out of the three in the range and this one was a leave on mask. Once again containing green tea and hyaluronic acid, this is a quick fix mask that you can apply if you don't have time for a full on pamper sesh.
Application states to apply a very generous amount and leave on for one minute for radiant and moisturised results. You can then either wipe it off or massage any leftover residue into the skin. I always massaged it in because there's something satisfying about the skin soaking it up fully. For me, it's the best way to see results (if any) and to also make the most use out of a product.
I loved this mask, even though it wasn't the usual peel off or sheet masks, it still provided me with great results and my skin shone through my fake tan to give me a glowy and healthy appearance.
I'm positively baffled by this range because all of the products worked so well and they're all under £5.00 which is a bargain. Nivea has still managed to keep it's brand ideals and features within this new range and I highly recommend both the night gel cream and the 1 minute detox moisturise mask. Those were my favourites.
What do you think of the Nivea Urban Defence & Detox range? Do any take your fancy? Sound off in the comments below.
*Disclaimer – This post contains PR samples. I wasn't expected to write a blog post and all words are my own.