– COMPLIMENTARY MEALS –
The health kick is officially off to a wonderful start thanks to the weekend we had with Sam's parents. Hummus Bros reached out to work with me on a collaboration and of course I said yes because I FREAKING LOVE HUMMUS. 
The chain has six venues across London and it fits in so much with the millennial health nuts, with most of their dishes being healthy and served within a reasonable time.
We were greeted by Raphael who took us to a table and went over the menu for us first timers. I wanted to get a nice mix of the menu so we went for one of the Hummus bowls and one of the wraps.
I was also told about the Fresh Mint & Ginger Lemonade being special and OMG YES. It's homemade so not fizzy which is a change for me but I loved how the ginger and mint complimented each other and it gave me all of the health vibes whilst I was drinking it.
The first thing that arrived was the Hummus bowl. We ordered the Chicken & Guacamole and these bowls come in either small or large. We went for large as we were sharing. I've honestly never tasted Hummus that is as smooth as the one I tasted there. It didn't have that typical grittiness that a lot of hummus does.
The hummus acted as a sort of wall that kept all the chicken, guacamole and sauce inside. We dipped our warm pitta bread into this and unsurprisingly, the dish was finished within minutes. 
We got some sides that Raphael graciously gave to us as extras which included tabbouleh which was a mixture of Bulgar wheat, chopped vegetables and seasoned with various herbs. The other side was a sizable helping of falafel balls which were very flavorsome and were a little more digestible than the ones I typically eat.
Finally, we moved onto the Falafel wrap, which was a struggle for me because I was so full up. For me, that's a sign of a good meal when one dish is more than enough to curb your hunger. The wrap was delicious but I'm not a major fan of pickles so I should have requested one without when ordering. The wrap was slightly thinner than usual which provided extra room for the filling. The wrap came in the brand's paper packaging with a side of crunchy tortilla chips.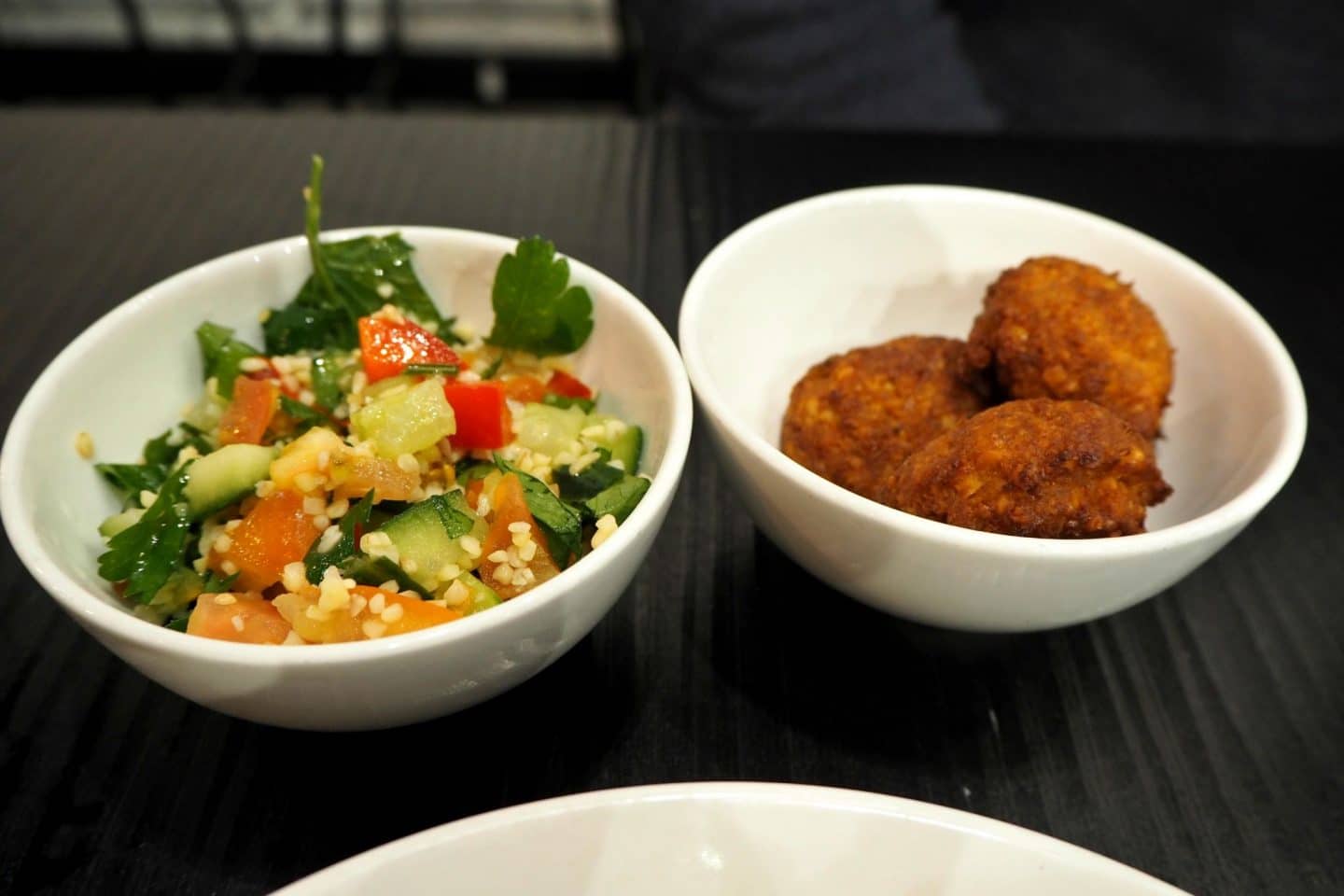 Overall I was really impressed with Hummus Bros. They had a very relaxed vibe and although it was more or less empty when we arrived after work, the place had very quickly filled up by about 7pm.
The menu is varied and caters for both the meat eaters and vegetarians amongst us. The price of a dish is a lot less than most restaurants offer for evening meals but still manages to fill you up without wanting more. Hummus Bros have very kindly invited me to try their office delivery service which I'll be trying in a few months so look out for more hummus filled goodies on my blog.
What do you think of Hummus Bros? Do you love Hummus? Let me know in the comments below.
*Disclaimer – I received a complimentary meal in return for an honest review. All words are my own.