I kind of need to stop myself before I get too carried away as I've been buying quite a few eyeshadow palettes recently from Morphe but I'm kind of obsessed with this newly discovered brand. I saw newly discovered not because it's new as Morphe has been around for a while but that I've only just started using products from this brand. The Jaclyn Hill Palette was one I've been wanting to try ever since it was released.
So yes I realise I'm very late to the party on this launch (as I often am with beauty launches) but I wanted to hear what the beauty bloggers and vloggers of the world thought of this palette before I got it. And the overall opinion is that it's a pretty fabulous palette. 
Containing a total of 35 shades, this palette really does provide a lot for the price you pay which is £37.00. I got it for £35.00 from Beauty Bay but unfortunately they recently broke their relationship with the brand so it's now out of stock. What drew me to this palette initially was the amount of colour. Not just the typical brown, beige, and neutral colours I love, but some more daring colours like the blues, oranges and dark pans.
As my beauty knowledge grows, so does my interest in colour and being a little more daring with my choices. I want to be able to adapt my eye looks to the outfits that I wear so that I'm not always going for a golden bronzed look on every occasion.
I wanted to swatch every shade to give you a look a what they look like on the skin and to point out some of my favourites from the palette. The top row is typically your lightest shades when it comes to a big palette such as this one. There's two beautiful nude colours, enlight and beam that both have a gorgeous shimmer to them. Not too much that it looks like you've applied highlighter to your whole eyelid but enough that it enhances any shadow you put on top of it.
Silk Creme and M.FE.O are two nude brown shades. Silk Creme is a little on the darker toned side whereas M.FE.O has more of an orange tint to it. Both of these are really good for a base shadow when creating a smokey brown look.
Faint is a extremely girly baby pink shimmer which looks gorgeous on the inner corner of my eyes when I pair it with sissy. One of the big ticks with this palette is that the shimmers are totally on point. They're not too creamy but are pressed into the pan enough so that they apply with just one swipe. Little Lady is a rusty bronze shimmer and is a typical shade in many of my palettes that I love.
When I saw Creamsicle, I immediately thought of cheesy crisps which made me hesitate on using this colour. However it's a great base for some of the more fiery red colours to create a unique look. Butter reminds me of the MAC velvet teddy lipstick and Pooter and Pukey are for me two generic brown shades that I know I'll be happy using.
Hunts and Firework look absolutely bomb together and are a bit more of a vibrant take on a smokey eye. Queen is pretty much what it says on the tin, a gorgeous golden shimmer that looks great on a cut crease.
Obsessed is a champagne shimmer that teamed with S.B.N and Hillster would create an enviable brown smokey eye. Jacz is a bit of a burnt red shade which is a little different. Buns again is another generic brown but Cranapple is a luxurious copper red that I love.
Onto the more darker colours and the vivid pops of colour, we start with Royalty which is a royal and regal purple. I don't really wear purple eyeshadow but when I'm feeling adventurous, I'm definitely going to give this one a go. Twerk is an electric blue and another one for the more experimental moments. Hustle, Meeks and 24/7 are a light to dark brown shimmer with Hustle being the lightest and 24/7 being the darkest.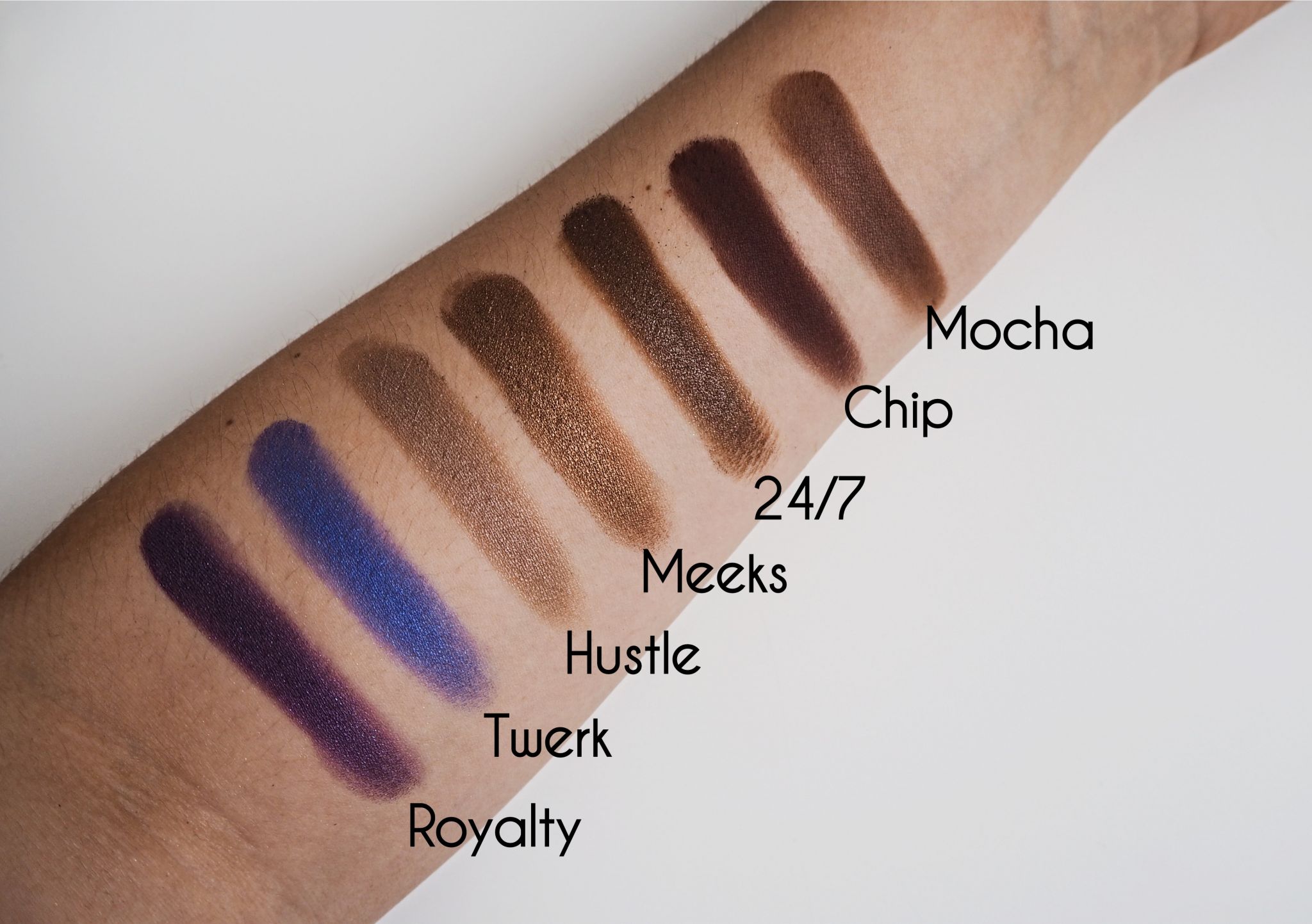 Chip is a dark maroon shade which again is another unusual shade that makes this palette stand out when it comes to the more typical shades you find in warmer coloured palettes. Mocha is a chocolate brown with a little shimmer so it's a great one for building into the crease of the eye.
The last row is mainly darker shades but there's a stunning neon turquoise shimmer that I think would layer beautifully with Jada or perhaps Twerk.
I'd say the only negative with the palette is perhaps the darkest shades, Diva was the last of the shades that glided onto the skin easily but Enchanted, Central Park, Soda Pop and Abyss were quite chalky and therefore a little harder to swipe and also more messy than other shades.
I think I'd still have a go at using these darker shades but I've not touched them yet because of A. how dark they are and B. because of the chalkiness and potential mess it would cause on my eyes.
Apart from that, this palette is perfect for a novice like myself and has enough shades to mix up your casual eye look but allows you to be a little more daring with some brighter and more challenging colours.
What do you think of the Jaclyn Hill Morphe Palette? Let me know in the comments below.